What is BearBox?
bear box
bɛə 'bɒks
noun
A bear-proof storage container used in camping areas to store food and other items that might attract hungry bears.
Versatile System Management
BearBox is a hosted system that allows you to easily manage a complete portfolio of alarms, security, access control and monitoring on your site.
Each BearBox installation is a bespoke system that we design for you, using top quality components.
We tie it all together with an on-site system that handles the rules and procedures required to keep your site secure.
We then give you control of your site through your web browser, allowing you to remotely control doors, set your alarm timings, and deal with on-site events from wherever you are in the world.
Set custom access levels, customise your keypad messages, view logs and reports and much more - manage your whole site from wherever you are.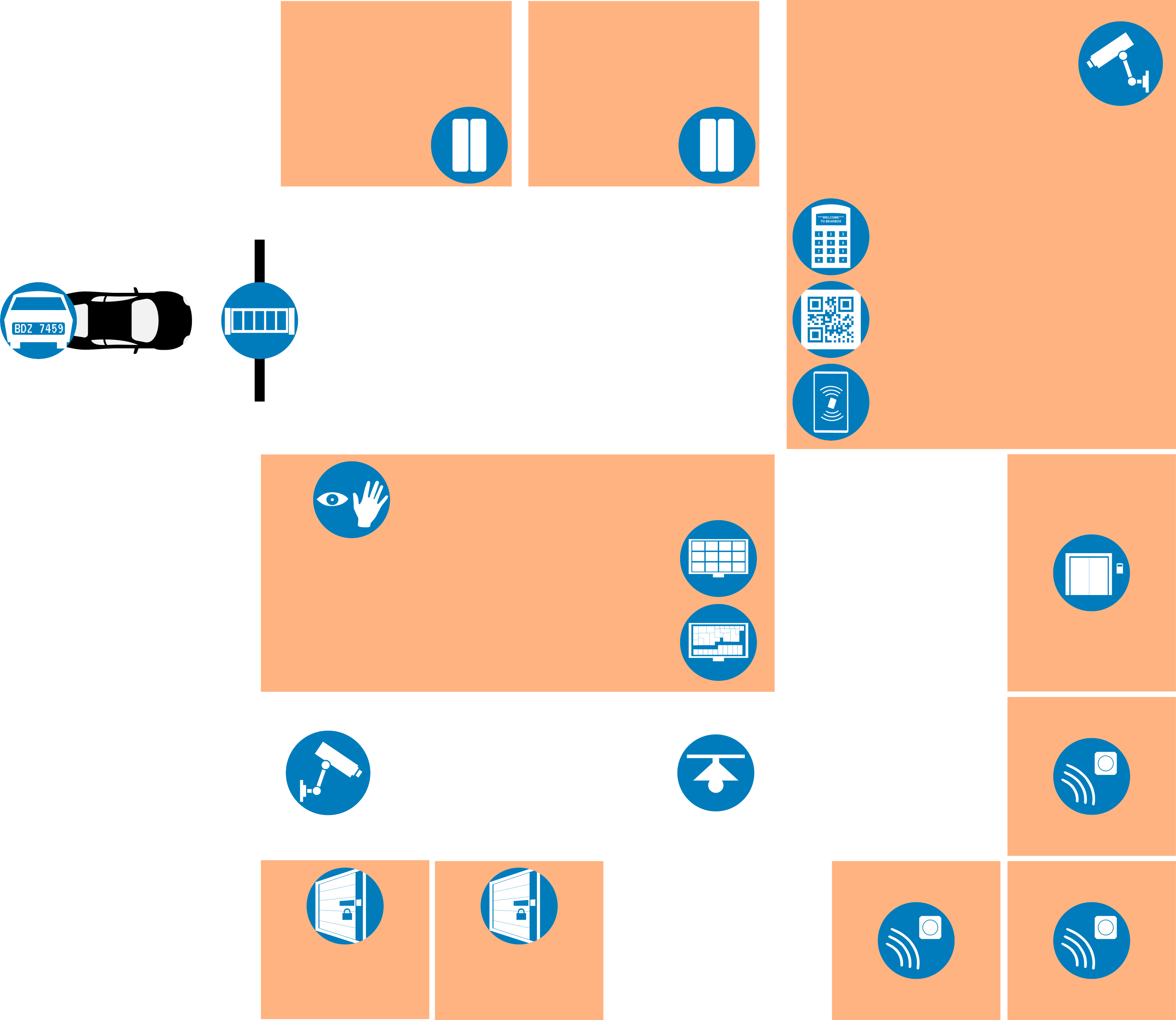 Features
Access Credentials

Keypads
PIN entry keypads with customisable messages. The BearBox touchscreen keypad is now our standard keypad entry device. You can also set your company logo as a screensaver!

Numberplate Recognition
Automatic numberplate recognition allows registered vehicles to automatically open gates

Proximity Readers
Proximity card / key fob readers can be fitted for quick codeless access - or you can use a combination reader and keypad.

Biometric Access
Biometric access devices like fingerprint readers and eye scanners can be integrated used to allow site entry.
Remote PINs
Enter an access code remotely using the BearBox website or one of the
BearBox apps
.
Customisable Rules

Lighting Control
BearBox can trigger lighting depending on the customers logged in, maximising efficiency and helping to guide users to their unit.

Gate Control
BearBox can be set up to control gates & barriers, holding them open at scheduled times of day, or opening on a valid code or numberplate.

Access Schedules
Limit customer access by time and entry point using zones imported from your rental software
CCTV

CCTV
Record high quality video triggered by motion detection, Redwall input, or button presses on an entry keypad. View your live and archive footage using web browser, mobile app or desktop application.

Displays
CCTV can be displayed on a screen in the store front or at various locations - onsite or offsite.

Redwall Integration
Redwall detectors can be used to trigger CCTV recording and alert monitoring stations.
Monitoring

Door & Corridor Monitoring
Monitoring for fire doors, windows and corridors. Monitoring can be switched off whilst staff or valid users are on site.

Unit Monitoring
Storage units can be monitored using door contacts or PIR detectors.
We can also fit "BearLocks", which automatically overlock units if a client is marked as locked out by your rental software. BearLock provides unit access only when a valid customer logs in, then automatically locks the unit when the customer leaves site.

Email Notifications
Configure email notifications to alert you to a number of issues, such as forced doors, invalid code uses, signals from an intruder alarm and doors left open.

SMS Notifications
Configure SMS notifications to be sent to a manager's phone when doors are forced or left open.
Rental Integration

Rental Software Integration
BearBox integrates with your unit rental software so that as soon as you've set up a new client, their code will work on a BearBox keypad.

Rental Software
If you don't have unit rental software, don't worry! Use BearBox's simple built-in unit rental tool to manage the basics of customers and contracts.
Online Features

Access Logs
Complete access logs for your site are available through web browser or mobile app, and can be searched and filtered.

Site Plan
Live online site plan shows the status of your units - rented, unrented, door open or door forced. The site plan can be incorporated into a security display, or you can view it on the BearBox website, where you can summon up logs and CCTV camera feeds from icons on the map.

Reports
View graphical usage reports for your site and units online.